The GC Hawk is a state of the art golf launch monitor with both Golf Ball and Golf Club tracking capabilities. Our simulator is available for Club Fittings, Golf Lessons, Practice Sessions and Open Play. We are currently licensed for over 50 different golf courses, plus other games and challenges to sharpen your skills.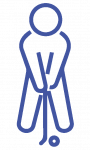 Club Fitting
$35 (Free with club purchase)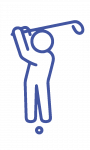 Golf Lessons
$20 plus standard lesson rates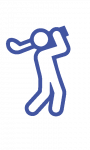 Open Play/Practice
$35/hour or $20/half hour
Call for reservations - 618-259-2365
Multiple Play and Practice Options
Monday – Friday 9:30 a.m. to 9:00 p.m.
Saturday 9:00 a.m. to 9:00 p.m.
Sunday 11:00 a.m. to 9:00 p.m.